The last few weeks have turned our world upside down. Suddenly, the whole world is faced with three terrifying and converging threats – the climate crisis, the COVID19 pandemic, and the deepening economic recession. It's going to take all of us working together to confront these challenges and create a safe and just future.
Everyone – every person and every industry – must do their part to stop the coronavirus pandemic and the longer-term disaster of the climate crisis.  
The coronavirus has demonstrated that people around the world can overcome a massive life-and-death threat when we accept the science and pool our resources. The climate crisis is a slower-moving catastrophe but is expected to cause at least 250,000 deaths a year, starting in 2030. The World Health Organization calls climate change "an urgent, global health challenge."  Global collaboration is essential as we rebuild from the pandemic, to make the profound changes necessary to protect our human community on Earth.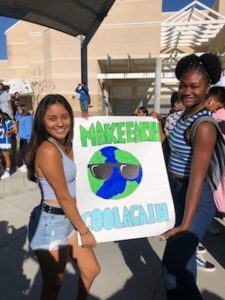 Solutions to both the pandemic and the climate crisis must prioritize justice for communities of color and low-income regions that bear the brunt of the damage. And we must listen to youth, who have the most to lose. We urgently need the Green New Deal to rebuild a better economy that is sustainable and fair for all. Industries receiving billions of dollars in pandemic bail-outs must commit to keep fossil fuels in the ground and shift to 100% renewable energy.
Right now, we need everyone to show up on Wednesday, April 22nd, to support each other through this pandemic and push our communities and governments at all levels to treat the climate crisis with the urgency it demands.
We owe it to ourselves and to our children.
Reading: